Dolibarr the complete accounting software with many plugins
Dolibarr an ERP/CRM that can meet all of your needs and can be adapted to each activity.
Just activate the functions you need and customize the app. An ERP (enterprise resource planning). It is essential whatever the size, the sector, the activity concerned.
What is an ERP ?
It is a software for companies, associations, freelancers, liberal professions, auto-entrepreneurs and many others. It means managing day-to-day activities such as accounting, procurement, project management and the complete supply chain.
ERP systems connect a multitude of business processes and enable the flow of data between them. This ensures data integrity with a single source of information. One of the key principles of ERP is the collection, the control of data with a view to distributing it. ERP is the way to integrate people, processes and technologies in any activity.
Features :
The founding principle of an ERP is to build computer applications such as accounting, inventory management... This in a modular way while sharing a single and common database.
The second principle is the systematic use of what is called a workflow. This makes it possible, when data has entered the device, to propagate it to all the modules that need it. For this it is necessary to make a definite programming.
An ERP must be oriented according to the user's profession. An ERP forms the core module while a trading company further develops inventory management and logistics. There are always customer relations modules or financial modules.
An ERP is the brain of any activity, allowing global and simplified management. The choice of software and integration are paramount.
The ERP must be personalized to the activity.
The four components of ERP are :
A table of products with nomenclatures, ranges, raw materials, production capacities, quantities.
customers and suppliers.
Stocks, retention periods, delivery times of carriers.
This is supplemented by tables relating to the financial aspects.
The two fundamental dimensions are :
The DI (degree of integration). It is the ability to provide all of the company's players with a single, integrated, coherent and homogeneous image of the information. It means having all the useful information for all the needs of everyone in the company.
The OC (operational coverage). It is the ability to federate all of the company's processes in each of the areas. All in a transversal approach that optimizes productivity.
The implementation is always a rather difficult period to live and the human aspects are priority. An open, transparent and sincere attitude is essential. In the same way as the recognition of its limits and its professional capacities.
The advantages of an ERP :
A better understanding of the company (sharing, consistency, homogeneity).
Lower operational costs (business processes and best practices).
Stronger collaboration.
A consistent infrastructure and better scalability.
Globalization of training.
Reduced management and operating costs.
What is a CRM ?
It is to establish a relational strategy by encouraging the search for customer satisfaction in close relationship with the aim of improving overall performance.

It's about building relationships that increase the value of the customer base. This very largely conditions the value of the company over time.

Some customers are more important and it is necessary to focus more on them. It is an essential characteristic of the relational company.
The use of a CRM is recommended from the start of an activity. Prospecting and building loyalty are two essential objectives for any activity. The CRM brings together in the same place each customer, member... each lead and each request.
CRM makes it possible to move from transactional management to relational management. It's putting the client back in his place. It means getting to know everyone for a lasting relationship and offering them an appropriate offer.
The CRM is to consider all the actors (partners, collaborators, suppliers, customers..), all those who deal with the activity thus have the same relations.
You can have recourse to the development of information and communication technologies (NTIC). The individualized dialogue and the multi-channel is essential in the management of the customers. These are e-mail-SMS-postal invitation-social networks...
The centrality of the customer capable of creating an individualized value offer, without betraying the identity of the company, its brand image and its priority markets.
Human Relations management is oriented towards employee satisfaction, which is closely linked to customer satisfaction.
The benefits of CRM :
It is to write the values and the norms.
Appoint people who propagate the culture to the appropriate positions.
Communicate internally with ease.
Relationship management is a long-term perspective.
It's managing the customer's lifetime value, ie the value of purchases over the customer's lifetime.
Dolibarr the "open-source" software
It means having a simple functional ERP/CRM accessible from anywhere. It can be hosted on a server in the same way as a website. Dolibarr is distinguished by its 3S (simple for installation, simple to use and simple for development).
The architecture runs using PHP-MySQL technologies and http/https web server.
Want to know more: https://wiki.dolibarr.org
For all the details go to: https://dolibarr.org
You want to know the extensions and unofficial documentation in pdf format go to: https://dolistore.com
The different modules are :
Directories of prospects/customers/suppliers.
Directories of contacts and addresses.
Catalog of products and services.
Management of stocks, bank accounts, transfers, orders, commercial proposals, service contracts. Customer and supplier invoices, payments, shipments, members, employee leave, social charges/VAT.
Registration of employee payments.
Double-entry accounting, general and auxiliary accounting.
Shared calendar.
Points of sale and cash register.
Carrying out a survey.
Mass emailing to customers and prospects.
Margin monitoring.
Collection of donations.
Bookmarks.
Reports and statistics.
PDF export of all elements.
Imports and exports.
NPR VAT management.
LDAP connectivity and Oauth2
You want to outsource the implementation, monitoring, have support, and be on a dedicated server. Open IT Store .com was created for this.
To find out more is :
To go to the product page, it's: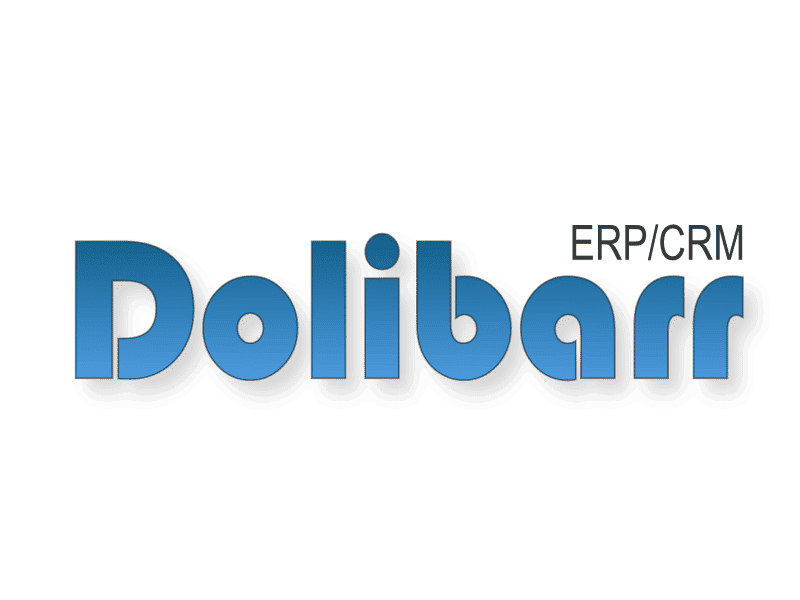 You want a free trial for 1 month or want to ask a question or other request :
Another factor to consider is the servers
Are the operating systems secure ?
What would happen if your computer disappeared due to breakdown, theft, fire, flooding and others... The cloud via the Internet network is a solution.
Advantages are :
self-service access.
accessible regardless of location.
pooling of resources.
a possibility of having more machine power, storage space.
a constantly measured and monitored service.
choose a competent service provider with daily backups on another server.
The different servers are :
Shared servers. This is based on an equitable sharing of resources. Namely RAM memory, CPU, disk space and bandwidth. There are many selection criteria. disk spaces, PHP and ASP programming language, database with size. The number of simultaneous connections...
Dedicated servers. A single customer to take full advantage of the machine's capabilities and resources. It can be outsourced by the service provider, it is the customer's choice.
Beyond Dolibarr there are several other parameters to take into account.
Those are :
Supervision and support :
Open IT Store offers you this guarantee. A supervision 365/365 days and 24h/24h. 99% of tickets are closed in less than a day. You can opt for telephone support on request.
ISO/IEC 27001 and 27002 certification is required for all server vendors.
Compliance with European laws - (GDPR) - is non-negotiable.
The ANSII application thanks to the use of verification or risk analysis scanners.
We establish a DPA (data process agreement) at the request of our customers.
A daily and incremental backup that is secured with encrypted exchange and a different data center from the production department.
We host based on your location on sustainable hosting for the planet.
It means having up-to-date versions of software, servers and all storage media. You should know that beyond 3 to 5 years obsolescence is proven.
When you have chosen Dolibarr you can have a collaborative platform with Nextcloud and Onlyoffice / Collabora.
To know more :
OnlyOffice and/or Collabora to complete a complete office suite on servers adapted to your needs with all the integrated services.
Open IT Store Open source online for everyone !
The most used opensource software available with Open IT Store.com are :
Nextcloud with OnlyOffice Docs and Collabora to have a collaborative platform and the office suite.
Dolibarr to have a complete ERP/CRM.
Nextcloud Talk, BigBlueButton, Moodle for modern video conferencing with security for learning and training tools.
WordPress and Matomo for a modern website and control.
Discourse for a discussion forum with your community.
Ghost for a blog from your website.
Rocket-chat a communication platform.
and others like Peertube, Bookstack, Firelly iii, Snipe IT, ...
You want to benefit from a free trial for one month, make the request at https://openitstore.com/contact/